Student Life
23 days ago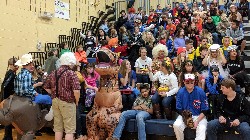 JGS Students Are Super(heroes)!
On Thursday, Oct. 12th, AJ Lady Wildcat Volleyball hosted Paws for a Cause All-Cancer Awareness Night. The volleyball team sponsored a local girl, 3 year old Blakeleigh Grace, who is currently fighting her own battle against cancer. JGS students Marlee Smith, Lily Baker, and Kaya Coleman caught word that little Blakeleigh loves superheroes! So, the girls attended the celebration in costume and surprised Blakeleigh with bags of goodies and a photo opp. Blakeleigh was the sweetest, most thankful little girl . . . in our eyes, she's the real superhero!
Jonesboro Fall Festival Royalty
Congratulations to the 2017 King and Queen, Mason Watkins and Natalee Brown. Once again, this year saw a large crowd enjoying games, raffles, silent auction, and haunted science lab. The evening ended with the announcement of the new King and Queen (Mason Watkins and Natalee Brown) and a junior high dance.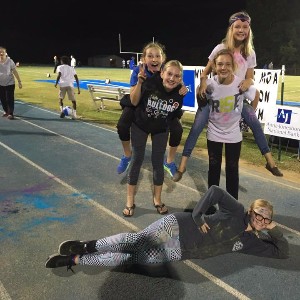 JGS Raised $1,500 to Help Knock-Out Cancer!
about 1 month ago
Anyone attending or visiting JGS during the week of October 16th - 20th probably saw some strange things . . .students and staff wearing their pajamas to school; superheroes in the building; hippies; hats; and of course, a sea of pink on Friday. No, you weren't hallucinating. The themed dress days were all part of a fundraising effort to benefit the American Cancer Society and promote awareness of ALL forms of cancer. Students and staff were asked to donate $1 for each day of participation in the theme days. Everyone had a great time dressing up and helping out this worthy cause. WAY TO GO BULLDOGS!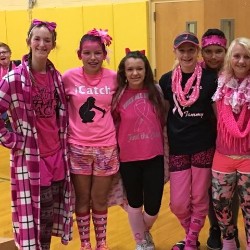 Southern Illinois Health & Safety Day Camp
17 days ago
4th Grade Field Trip a Success
Students in Mrs Allgaier's and Mrs. Bundren's 4th grade classes had a fun, but warm, day at camp in Vienna on September 21st. They visited 9 stations throughout the day. The event was sponsored by Farm Bureau.