Help Our Betas Get to Nationals!
13 days ago
JGS Betas Advanced to Nationals in 6 Categories!
JGS Beta Club needs YOUR help to cover hotel costs, registration fees, activity fees, and meals while they attend National Convention in Oklahoma City this June. The Club is holding various fundraisers to help cover the cost of the trip. Check this page to see current fundraiser information and watch them meet their goals! Anyone interested in purchasing from a fundraiser or to make a donation, please contact Jama Eddleman at school (618) 833-5148 ext. 272 or at jeddleman@jonesboro43.com
You can also check out our fundraiser page link on the school Facebook page and make a donation directly from FB.
Student Life
about 1 year ago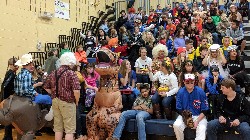 JGS Students Are Super(heroes)!
On Thursday, Oct. 12th, AJ Lady Wildcat Volleyball hosted Paws for a Cause All-Cancer Awareness Night. The volleyball team sponsored a local girl, 3 year old Blakeleigh Grace, who is currently fighting her own battle against cancer. JGS students Marlee Smith, Lily Baker, and Kaya Coleman caught word that little Blakeleigh loves superheroes! So, the girls attended the celebration in costume and surprised Blakeleigh with bags of goodies and a photo opp. Blakeleigh was the sweetest, most thankful little girl . . . in our eyes, she's the real superhero!
Jonesboro Fall Festival Royalty
Congratulations to the 2017 King and Queen, Mason Watkins and Natalee Brown. Once again, this year saw a large crowd enjoying games, raffles, silent auction, and haunted science lab. The evening ended with the announcement of the new King and Queen (Mason Watkins and Natalee Brown) and a junior high dance.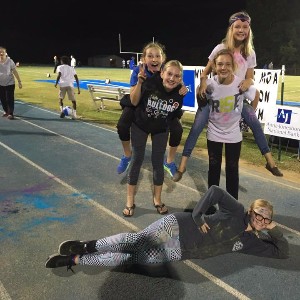 Jonesboro Marching Band is Back!
7 months ago
We are proud to see our Jonesboro Marching Bulldogs back in action!